Ki Mobility Flip
Categories:
There comes a time when a child's adaptive stroller no longer fits their unique seating and postural requirements.
When this time of transition comes, Ki Mobility has the answer. The Little Wave Flip is the first pediatric tilt-in-space in the market designed to look more like a stroller with the technology of a wheelchair that also offers tilt. Additionally, the Flip aids in managing the emotional transition for parents as their loved one moves from one mobility solution to the next.
Portable Design
Every element of Flip has been designed to encourage parents and their families to get out and about. With a simple "flip" and fold like a stroller, the chair is folded. The Flip transforms into a small package that can fit in the boot of the tiniest car. Which gives the family more room in the boot!
Put a flip to your fold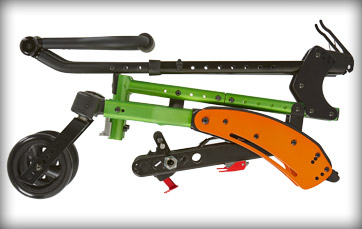 The Little Wave Flip blends design elements from strollers with the benefit durability of a wheelchair. Just because it's a wheelchair does not mean it needs to look like one. From its flat folding design to its use of TAPER LOK technology, the Flip is simply the most advanced pediatric tilt-in-space available today.
Eliminate bland. Illuminate personality.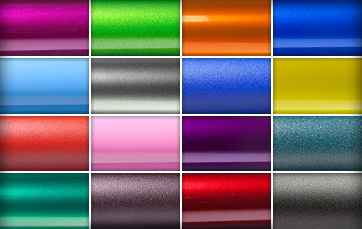 Children are small in size but their personalities can be bigger than life. Let them express themselves with over 500 colour combinations to choose from!
Designer Spoke Guards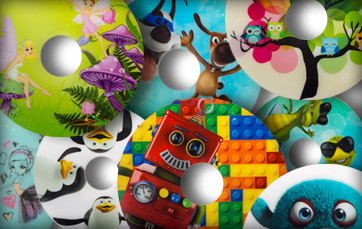 Eight spoke guard designs offer a few more ways to personalise your Flip! Ask your product consultant to see them all!
Coloured Wheels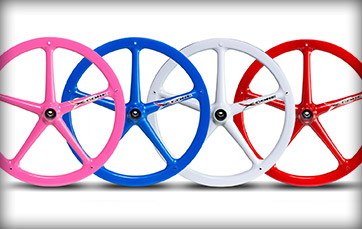 Colours are not stopping at the frame! Even your wheels can be fun!
Don't struggle with growth. Embrace it.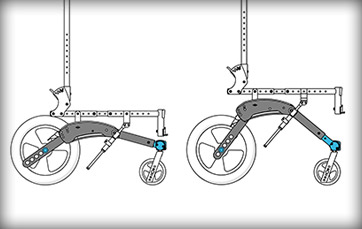 The Flip offers a new meaning to adjustability. Seat height, seat depth, and seat width have never been so easy to change, with fewer parts than any other chair out there.
Attendant Wheel Lock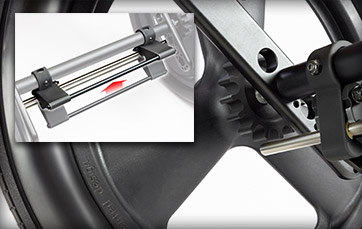 Habits can be hard to "brake", the attendant wheel lock is a hands-free, easy to use stroller-like wheel lock option that makes parent's life just a little simpler when transitioning from a stroller.
Height Adjustable T-Arm Low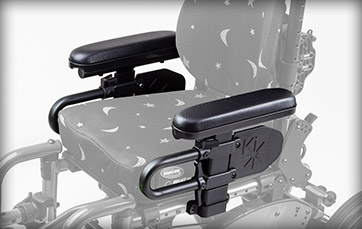 The Height Adjustable T-Arm Low provides a rugged adjustable armrest option for smaller users.
Flip-up Anti-Tips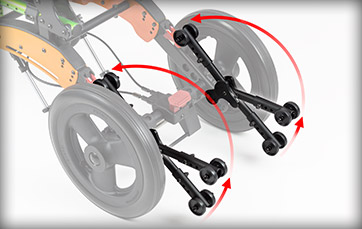 Tired of struggling with anti-tips? Sick and tired of almsot losing a toe nail when you've got thongs on?? Ki has found your solution! This design allows the anti-tips to stay connected while making everyday obstacles such as curb climbing hassle-free.
Ergo Folding Back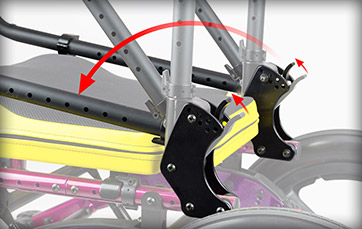 The Ergo Folding Back is durable and strong while being easy to fold. With the flip of a lever, you are able to activate the Ergo Folding Back for an effortless fold.
High Pivot Folding Back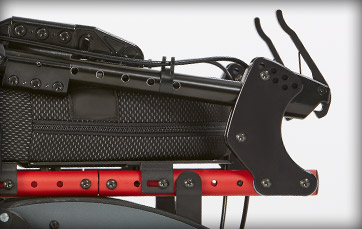 The more you take off, the more you have to put on! Using a higher pivot point on the folding back, Ki has created the possibility to leave more seating on the chair while folded.
Drum Brake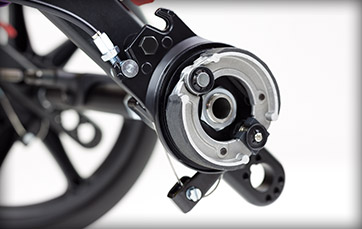 We are not eliminating the wheel lock; instead, Ki have added the unique option of a true braking system. Great for anyone living or traversing through hilly terrain.
Self-Propelling Axle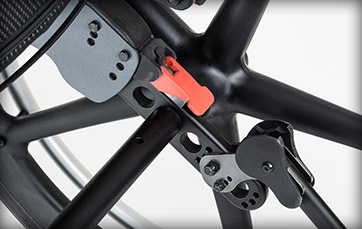 The Self-Propel Axle option of 20, 22 and 24-inch wheels allows you to achieve the balance between wheel access and tilt range.
Transport Weight*
21 lbs. / 9.53 kg
Seat Width
10-18 in. / 25-46 cm
Seat Depth
12-20 in. / 30-51 cm
Seat Height
13.5-20 in. / 34-51 cm
Tubing Size
1 in. / 2.54cm
Weight Capacity
165 lbs. / 75 kg
Tilt Range
0° - 45°
* 14"x14" Frame with Attendant Wheel Locks. Armrests, Rear Wheels and Footrests Removed.